Anyone who's known me more than five minutes knows I grew up in Metro Detroit in the small city of Inkster, Michigan. Every once in a while, I find a way to celebrate my roots through design. Here are a few projects that took me back to my hometown roots.
150 Years of Spartan Spirit
As a Michigan State University alumnus, creating this banner was one of my greatest honors. A fresh new designer in East Lansing at the time, I designed this with all of MSU in mind. The banner celebrates the history of the school and many aspects of its beautiful sprawling campus.
The Ambassador Bridge is a 7,500 foot connection between not just two cities, but indeed two nations. Detroit, Michigan sits on one side; Windsor, Ontario awaits on the other.
As a kid, this was a routine commute for my family. We'd take multiple trips over to the lake shores of Canada each year. I created this logo to celebrate the bridge and my personal history. More than that, I love the idea of being an "ambassador" – sharing my past experience and roots with the world.
Just for the fun of it, some years back I spent a little time recreating the look of this beautiful neon sign as a vector illustration. Neon is an amazing art form I continue to find new ways to appreciate.
This is an homage to the piece that hangs in the window of The Detroit Shoppe on Woodward Avenue.
Click through to see a whole boatload of my other neon sign artwork!
As much as I love projects that highlight where I'm from, I'm always excited for new places! One of my greatest joys in life is to see, experience, and interact with a new place. And I'm passionate about helping communicate the heart and soul of a place. If you're looking for someone with a passion for placemaking and design, drop me a line!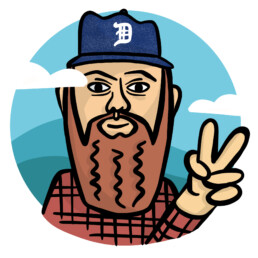 Carl Vervisch
Carl Vervisch is a strategic creative leader, entrepreneur, and multi-talented artist in Tampa, Florida with a decade of experience working with top national brands with his own business at Social Forces LLC.