Logo design is one of my favorite practices as a creative professional. I am heavily inspired by minimalism, typographic art, and conceptual design. To show one thing I love to do with my work, I dug deep into the archives to show one of my newest executions and some of my oldest. I hope this inspires you to either 1) make more of your best work or 2) call me to work on a logo design project with you!
This one will make you flip!
Take this one for a spin. My good friend Nicholas Lorden owns a creative carpentry business called Hard Tack. I provided him with marketing and brand consulting services. Then I built this logo with the same love for the craft that he brings to his wooden masterpieces.
These letters have a life of their own.
One of my crowning achievements as a logo designer. This logo design was for an art exhibition called Emerge. The show was built to shine a light on emerging artists. The unique logo communicated the idea of emergence in a literal but surprising way – and it was a huge hit! This logo design went on to win national kudos on the American Advertising Federation's awards circuit.
Mirror, mirror, on the logo.
One Here One There was a nonprofit with a complex mission fighting an uphill battle for recognition. Many years ago, I helped them get moving with a logo that managed to represent how their worldwide mission created a reflection of your contributions overseas.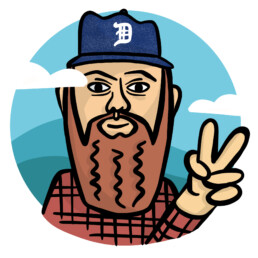 Carl Vervisch
Carl Vervisch is a strategic creative leader, entrepreneur, and multi-talented artist in Tampa, Florida with a decade of experience working with top national brands with his own business at Social Forces LLC.